You aked for it so here it is Virtual Horse Racing on your own TV!!!
COMPLETE HORSE RACING NIGHT - THE DVD GAME!!!!
Contains a Fantastic DVD of Genuine Horse Races!

Place Your Bets... and gamble the night away!

A complete horse-racing experience - lots of betting paraphernalia - invitations - menu - constume suggestions, Instructions etc!

A thrilling night of Thoroughbred entertainment!

10 real horse-races on DVD - Betting Slips - Fake Money (or why not use Real Money!) -

The horses are in the stalls, the starter pulls the trigger... and they're off!

British Game!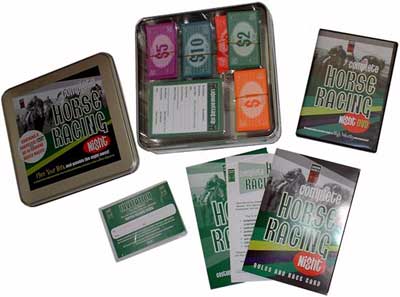 "Great For a night in with family & friends or why not host a Horse-Racing night in your local Pub!"

Prepare yourself for the adrenaline rush of a night at the races with this complete horse racing night. Place your bests and try to beat the bookmaker and win a fortune! Plus for added thrills you can buy, sell and bet on your own horses to create a winning stable!
---