A complete racing simulation with all the action expected from live, competitive racing.
the best of QuarterPole ® and
Hooves of Thunder
PLUS
great new features.
'Racing action' for up to 10 players. Year after year.
from Action Games, Inc.

Races - 3120 a year, 10 a day. Stakes, Handicaps, Claiming, Maiden, NW1/2 and Allowances. 5-14 furlong races, dirt and turf. Large racing colony moves to a new course every 3 months. 250 unraced 2yos replace older horses each year.

Horses - cover a wide range of performance levels with front runners, stalkers and closers. A horse's performance varies from race to race but within its own range, and changes with age.

Handicapping - Full past performances and results charts. Horse, trainer and jockey records continuously updated. Track records. A course in handicapping. Systems for beginners. Race results depend on past performances, track conditions, track bias, pace, race positions, running styles, jockey and trainer patterns, weather and racing luck.

Betting - Standard and exotic bets including keys, wheels and parlays plus casino bets for players who want to avoid serious handicapping or hedge their bets. Pari-mutuel bets change odds.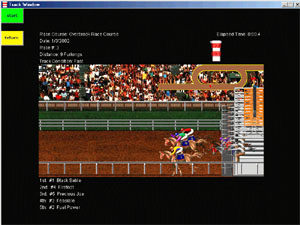 Owners - Get a stable; pick their trainer, jockey and silks; make race entries or let their trainer; claim horses; buy or sell horses privately; buy unraced horses at auction; collect purses and get to the Winner's circle.

Sights & Sounds - Race graphics from start to finish, split times, 4 track backgrounds, 'call to the post', gate 'clang', hoofbeats, leading announcers call the race from start to finish including the winner, auction graphics and auctioneer.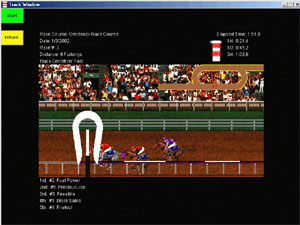 Renaming - All stable horses, trainers and jockeys can be renamed.

Other features - Horse chat items, scenes at race courses, art gallery featuring prominent artists.

Internet style layout, navigation and links.

System requirements:
Windows® '98/ NT/ 2000/ ME/ XP, 128 RAM min.
300 MHz min. processor
100 MB hard drive space
CD-ROM or DVD drive
mouse input device
800x600 resolution min.
SVGA color monitors, works with Windows compatible ink jet or laser printers.
tm.
QuarterPole Plus is a trademark of Action Games, Inc
---